Puja Talwar | Wed, 20 Feb 2013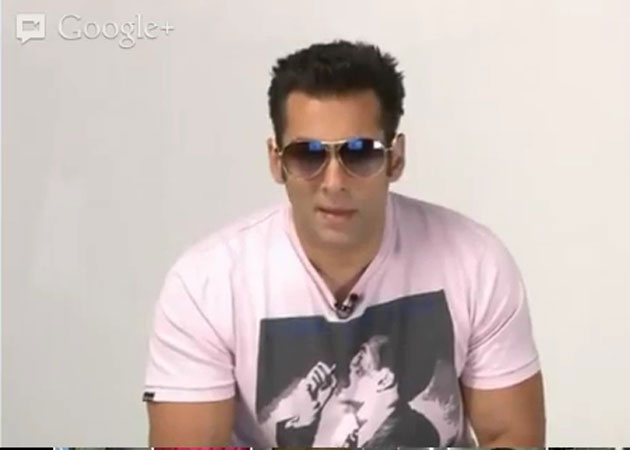 [img][/img]
The most searched Bollywood superstar on Google, it was no suprise that Salman Khan decided to flex his social networking muscle as he made use of Google+ to engage fans and media and announce his new community, the Salman Khan Fan Club and launch a search for a Dabangg fan to manage the club.
But the most wanted Khan of Bollywood had a confession. He might be a novice when it comes to social networking skills, but kept things simple as he hung out with members of media on the social networking platform.
More than willing to answer anything that was asked of him, Salman said, that what he did in his personal space (read his bedroom) was his business, but beyond that he was public property.
So what was the secret of his success?
"No secrets. I do the same thing over and over again. I don't even reinvent myself."
But Salman has always managed to strike back, whenever naysayers have announced his end.
Salman laughs, "Yes, often you have no option but to strike back."
One of the fans on NDTV.Com asked him when would he marry and have kids. Salman quipped, "Marry, I don't know. But kids, I love them and want to have them. I am working on a way I can escape marriage and just have the kids."
Though that may break many female hearts, but we know he would be one daddy cool.
With his health problems and the hit and run court case, seems like the actor is going to have tough times ahead. Unruffled, Salman said, "I equate my life to a game of Snakes and Ladders. Sometimes I hit a six, I go up, then a four, I come down a bit and then a three, I am at my lowest. So, whatever my destiny is, it will happen but I will fight back to the best of my abilities."
And as he looks for the one Dabangg fan to manage his fan club, it's exciting times ahead for the franchise.
"Yes, Dabangg 3 is definitely happening and it would be on the making of Chulbul Pandey," the actor said.
Steering clear of controversies, Salman said he doesn't like to use social networking to clarify anything but just connect with his fans and have fun.
Well, here is one Tiger, who knows how and when to roar bright.