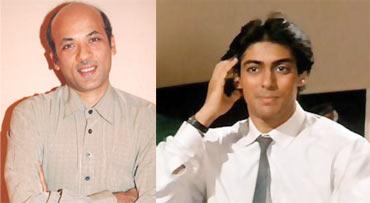 Here's an interview with director Sooraj Barjatya on the making of 'Maine Pyaar Kiya' From Sushant Mehta's Blog:
SM: Describe your initial days in Bollywood, and where did the idea of Maine Pyaar Kiya come from ?
Sooraj Barjatya: I was very fortunate to be born in a film family. I learnt editing at the age of 12. By the time I was 16 I knew I wanted to be a filmmaker. I left my studies and joined Mahesh Bhatt as an assistant and that was something remarkable. I realized what film making is.
Then I wrote a script. My father saw that script and said, 'Ye abhi nahi, pehle apni umar ke hisaab se koi film banao.' Then he gave me a Rajasthani folktale and said: 'Ek banjaara apni beti ko chorr ke jata hai apne dost ke paas kamaaney. Jab laut ke aata hai toh dekhta hai apni beti ki insult ho rahi hai.' That's all he said and told me to write a full script for this plot - a proper commercial one. I said I am not a writer. He said, "Write. Likho tum jo feel kar rahe ho tumhari umar mein iss samay." I took 6 months to write the first half and 4 months to write the second half.
SM: How did you get Salman Khan for that role? He told me he was hesitant to do the role.
Sooraj Barjatya: Yeah, it was because of the kind of films Rajshri made till 'Maine Pyaar Kiya'. A lot of actresses who worked with us earlier had won Filmfare awards, but none of our heroes did, with the exception of Mr Anupam Kher for Saraansh. Humari village ki filmein thhi, soft filmien hoti thhi. I am sure ki Salman ke mind mein woh raha hoga.
Anyway we tested a girl for the heroine's role in 'Maine Pyaar Kiya'. Her name was Shabina Dutt. She failed the screen test but we asked her if she could suggest any actor for the lead. She told us she had done an ad film with a new comer and that he was Salim Khan's son.
I don't remember which ad. May be it was a Lakhani ad. Now I thought, Salim saab ke son kya karenge humare saath kaam. Hum toh new director hain. But still I called him up. The first time when I saw him at the reception, I remember him sitting there. Ek simple shirt thi aur ek jeans thi. I met him and I thought he is quite ordinary, very thin. But when he showed me his photograph it was magical. The way he sat, the way he stood, the way he looked - those eyes, they were magical. Then I narrated the script and the script just struck both of us somewhere. Me narrating and him listening and that's where this thing worked. And then we went through tests after tests because that time he had a problem with dialogue delivery. His dancing was not that good. That was like all of us and then unfortunately he already had a film on floors called 'Biwi Ho To Aisi'. But we got no one better than him so...
SM: Interesting! You mentioned he had a problem with dialogue delivery. I remember his voice in the film you mentioned, his first film 'Biwi Ho To Aisi'. His voice was dubbed by someone else, it's not Salman's voice. Talk to me about working with Salman initially. Was he difficult?
Sooraj Barjatya: No, it was like both of us were ready to give our lives for one shot. We were like 21 years old. Bhagyashree was about 18, so it was just a make or break for us. There was never any argument, he respected me I respected him.
The first day was the office scene I remember with Mohnish, Salman and Rajeev Varma ji. It was the first day of shoot where Rajiv Verma tells Salman that you have to go. You cannot stay here to celebrate Bhagyashree's birthday. That was the first scene we shot. And then we shot continuously over 5-6 months. We had huge sets. 6 months, yeah. That's it, dekhte dekhte.
SM: And I remember Salman's accessories - his jacket, the famous 'friend' cap. There were little pouches and very American style posters. So was that from you or was that from him?
Sooraj Barjatya: No, that was mine. I was fascinated by 'Top Gun', so we designed something like top gun for him (the jacket). The Friend cap was my idea because I felt there has to be a communication between the boy and the girl. The posters were all my art director's. He said if you want we'll use those posters. Then there was a wall of Salman's own photos. Some of them were shot by Monish. Few of them we put.
SM: And how did Bhagyashree come in?
Sooraj Barjatiya: I think the credit goes to my father. I think we were stuck on the heroine. There was no heroine and the heroine I wanted was working with a director like Yash Chopra and an actor like Anil Kapoor, and we were nothing. So we were hesitant. I remember there was a top heroine shooting in Chennai at that time and I booked my ticket and I said I will just go and sign her. And my father had gone to Allahabad at that time to hunt for talent. That was the desperation at that time. From one of the stations, mid-way, he called me up in the middle of night and said, "Wait for a day. I have a magazine in front of me where there's a photograph of the girl who has acted in 'Kachchi Dhoop'. Her name is Bhagyashree Patwardhan, and we know her family. Wait for a day, I think she'll suit." And we stopped. And that's how she came.
SM: Any favourite scene between Bhagyashree and Salman?
Sooraj Barjatya: My favourite scene would be the Iodex scene. There was a scene in the film where Salman pushes Bhagyashree from the cycle and she falls. She's hurt her ankle you know and he's aware of it and she is aware that he knows she's hurt. Then he comes to the room and says, "I can keep my eyes closed and apply Iodex."
SM: And the music of the film...
Sooraj Barjatiya: In fact a lot of credit goes to Ram Laxman ji. Because there is this song 'Dil deewaana, bin sajna ke maane na' which was his favourite. He composed that song when he had nothing to eat. So that song was very dear to him because that song came out of desperation. But he gave it to me. He didn't give it to any other director over the last 20 years. That was his love for me. So, there is a lot of history. In 'kabootar ja' there was no kabootar song as such. But there was a situation where I did not want the word 'love' word to come. The lyrics writer Asif said, "Main likhoon kya, kamre main aur kya hai?" Maine kaha ladki ka taap hai, kabootar hai...' And he wrote the song. I could not even imagine that Lata ji will agree to sing for a newcomer like me. When Lata ji agreed to sing the whole project went up.
SM: There was the Antakshari scene. Full-fledged antakshari scene for the first time and it was successful. You were the first one to exploit these classic Indian rituals and traditions like antakshri , 'joota chhupayi'...
Sooraj Barjatiya: I don't know how it happened but I always wanted that whatever happens it has to happen in the family. That was what I've always wanted. So when you see people sitting together, there is enough free time, you have to keep awake in the nights. So what do you do? Either you dance or play antakshari. That's something I have done. It took me 3 months to coin this antakshari which is 10 minutes or so. It took me 3 months to coin one song after the other. I edited it myself, gave it to the music director, they coined it, and credit must go to Lata ji.
It's the only film and the only song in which she has sung someone else's song. The heroine is singing a Rafi song, so Lata ji is singing a Rafi song. So that's Lata ji singing 'I love you', an Alisha song which is so wonderful to see her singing someone else's song.
SM: Lastly, two characters that i found very interesting and entertaining Laxmikant Berde who became an instant hit and the vamp. Who was the vamp in the film ?
Sooraj Barjatiya: Laxmikant unfortunately is no more. I was very close to him. He was the only 'star' at that time when I signed him for Maine Pyaar Kiya. Others were all newcomers except for Alok ji. And the cigarette scene from the film; he improvised a lot in that scene . That scene was very good on paper but when he took it up, he added his yoga poses, he added his comedy and the timing he had with Salman. These are the memories that I have in my mind.
Perveen is someone I picked from English stage. I was hunting for a girl to play the negative role, someone with an English accent. So where do I hunt? There were no acting schools at that time. There was an English stage of... I'm forgetting the name. But that's when I saw her, with the curls and making those faces. Next day I called her and she was there. It just happened. Some films have to be made so things fall in place. That's all I can actually reason. There's no reason. It had to happen.
----IBNLive