Arun Mohan Nadar | 03 Dec 2013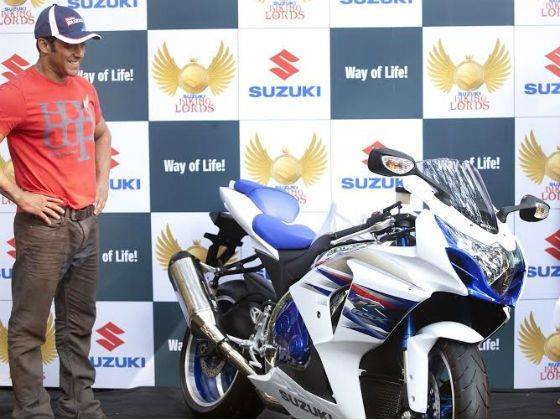 At the launch of its superbike club-Suzuki Biking Lords, the Japanese two-wheeler manufacturer handed over the keys of the limited edition GSX-R1000Z to its brand ambassador Salman Khan
Bollywood superstar Salman Khan, who is the brand ambassador for Suzuki Motorcycle India Limited (SMIL) acquired a special edition GSX-R1000Z. The bike was produced to celebrate the occasion of Suzuki rolling out its 1 millionth GSX-R from its production line and has been limited to just 1,985 units (1985 was the year when the GSX-R was introduced) across the globe. The GSX-R1000Z sports a dual-tone shade of blue-white along with special anniversary decals and was delivered to Salman at the launch of Suzuki Biking Lords – an exclusive superbike club by Suzuki for its owners.
Speaking at the occasion, Salman Khan said, "Suzuki superbikes have always been about technology that translates into power, performance, ride quality and handling. This exclusive GSX-R1000Z is a jewel in Suzuki's crown of super bikes. It's a biker's privilege to own one. The engineer's skill translates into the rider's thrill. I look forward to many long rides on this bike and experiencing the feeling of freedom and joy that biking always brings."
Apart from these details, the limited edition bike boasts a special key fob and a serial number plate attached on the upper front fork bracket. Salman Khan himself is a motorcycle enthusiast and this isn't is his first Suzuki superbike as he already owns the Hayabusa and the Intruder M1800 cruiser and as of now is the only individual to own the GSX-R1000Z in the country. Also Read: Suzuki Being Human edition Acess launched.
Zig Wheels
_________________