July 22, 2013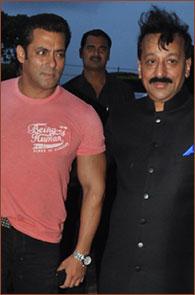 Salman Khan and Shah Rukh Khan hugged at Congress leader Baba Siddique's Iftar party on Sunday evening but according to sources, it would be unrealistic to presume that the cold war between them is over.
"Far from it," says a source close to Salman.
"Bhai has said many times in the past that he would never again be friends with Shah Rukh. Their differences are irreconcilable, and that's how it remains. The hug at theIftar party happened because of circumstances. Neither Bhai nor Shah Rukh could say no to their host when he led Bhai to Shah Rukh. They've the highest regard for him. That's why they were both there at the same place at the same time. It was only because of the host that Bhai made that gesture. There is nothing more to it," says the source.
Salman's brother Sohail, who were present at the Iftar party confirms, "They just greeted each other. There is nothing more to it."
Several mutual friends of the warring Khan superstars have tried to bring them together. The most recent is Katrina Kaif, a close friend of Salman who worked recently with Shah Rukh in Yash Chopra's Jab Tak Hai Jaan.
"Katrina tried to explain to Salman that Shah Rukh is a nice guy but Salman won't listen to anyone about patching up with him," says a source.
Rediff
_________________